"The World's End" Blu-ray/DVD Combo Pack!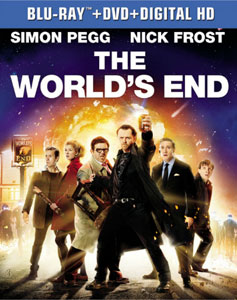 Five middle-aged friends set out to relive a beer-fueled odyssey from their youth, and end up in an epic battle to save humankind in the outrageous comedy The World's End, available on Blu-rayTM Combo Pack, including Blu-rayTM, DVD and Digital HD with UltraVioletTM, DVD and On Demand on November 19, 2013, from Universal Studios Home Entertainment. Now fans can truly watch The World's End anywhere, on any device!

Directed by Edgar Wright (Shaun of the Dead, Hot Fuzz), The World's End's irresistible humor has made it the toast of film reviewers across the nation. Labeled "sheer comic perfection!" by Peter Travers of Rolling Stone and called "Hilarious!" by Entertainment Weekly's Chris Nashawaty, The World's End stars Simon Pegg (Star Trek Into Darkness, Paul) and Nick Frost (Snow White and the Huntsman, Paul). This is the third and final film in Wright's The Ultimate Three Flavors Cornetto® Trilogy, which also features hits Shaun of the Dead and Hot Fuzz starring Pegg and Frost, available exclusively on Blu-rayTM November 19th.

The World's End also stars Paddy Considine (The Bourne Ultimatum), Martin Freeman (The Hobbit), Eddie Marsan (Sherlock Holmes), and Rosamund Pike (Jack Reacher). The Blu-rayTM Combo Pack serves up more than two hours of bonus content, including a gag reel, feature commentary with Simon Pegg and Nick Frost, and an insider's look at the making of the funniest reunion picture ever made.

http://www.TheWorldsEndMovie.com

Enter to win!

Thanks for visiting EDGE!
Click here to learn about the 365 Gifts Promotion »